In the English football leagues, there are many grounds that are based in the same city. In some cases, the stadiums are very close together and within easy walking distance.
Here is a round up of those grounds with the shortest distance between them.
What Two Football Clubs are Closest to Each Other in England?
The English grounds with the shortest distance between them are the City Ground of Nottingham Forest and Meadow Lane of Notts County. There is just 0.7 of a mile between the two stadiums, and this is an English record that is likely to remain unchanged in the future.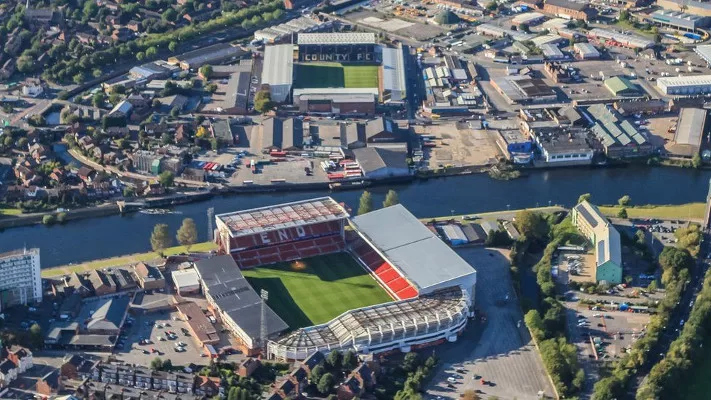 Closest Football Clubs to each other in the English Football League
Nottingham Forest & Notts County
The distance between City Ground and Meadow Lane is about 0.7 mile or 1.1 kilometers.
As we have just seen, Nottingham Forest and Notts County are the closest grounds to each other in the English football league. They are separated by the River Trent, and the City Ground and Meadow Lane are within easy walking distance of each other.
If you stand to the side of the road opposite Notts County's ground, you can actually see three sets of floodlights. Along with Nottingham Forest and Notts County, the Trent Bridge Cricket Ground is also close by, so sports fans are well catered for in this region of the city.
Liverpool & Everton
The distance between Anfield and Goodison Park is about 0.9 miles, or 1.4 kilometers.
Liverpool's Anfield and Everton's Goodison Park ground are just 0.9 miles from each other. They are separated by a section of Stanley Park, and it's easy to walk between the two.
This distance means that they are currently in second place on the list of grounds that are closest to each other in English football. However, Everton will soon be on the move and are expected to be playing at their new ground at Bramley Moore Dock from the start of the 2024/25 season.
Located in Vauxhall, the new ground is around two miles away from Goodison Park, so Liverpool and Everton will slide down this list from that point.
Chelsea & Fulham
The distance between Stamford Bridge and Craven Cottage stadiums is about 1.7 miles, or 2.7 kilometers.
When Everton do move from their current Goodison Park home, Chelsea and Fulham will move up from third to second place on this list. Their Stamford Bridge and Craven Cottage stadiums are situated just 1.7 miles away from each other.
Chelsea's Stamford Bridge ground is, in fact, situated in the London Borough of Fulham, so we shouldn't be surprised to see the stadiums so close together.
Aston Villa & Birmingham City
The distance between St. Andrew and Villa Park is about 3.2 miles, or 5.1 kilometers.
Local rivals Aston Villa and Birmingham City have stadiums that are situated just 3.2 miles apart from each other. While this is one of the most bitter rivalries in the English game, the local derby has not been a regular fixture in recent years.
Villa Park is the home of Aston Villa, while Birmingham City have played their home matches at their St Andrews Ground since 1906.
Sheffield United & Sheffield Wednesday
The distance between New Den and The Valley Stadium is about 3.6 miles, or 5.8 kilometers.
Sheffield's two main professional clubs are also close together. Bramall Lane, home of Sheffield United, and Sheffield Wednesday's Hillsborough are 3.6 miles apart.
The two clubs are fierce rivals and the Steel City derby, as it is known, has been a semi-regular fixture on the calendar in recent years. The two Sheffield clubs have played most of their matches in the Championship, although Sheffield United were promoted to the Premier League for the 2023/24 season.
Aston Villa & West Brom
The distance between The Hawthorns and Villa Park is about 3.8 miles, or 6.1 kilometers.
Birmingham City's St Andrews ground isn't the only stadium within close proximity to Aston Villa. Just four miles down the road from Villa Park lies The Hawthorns, the home of West Bromwich Albion football club.
The Hawthorns holds an interesting record in English football. It is the highest ground in the UK of all Football League and Premier League clubs, measuring at 551 feet above sea level.
Arsenal & Tottenham
The distance between White Hart Lane and Emirates Stadium Stadium is about 4.2 miles, or 6.7 kilometers.
Arsenal and Spurs are great North London rivals and their stadiums are just four miles away from each other. However, this wasn't always the case. The Gunners began life as Woolwich Arsenal and were based in south London for the first 27 years of their existence.
In 1913, Arsenal moved to Highbury while Tottenham were based at White Hart Lane, just up the Seven Sisters Road. Both clubs have since changed grounds, but the Emirates and the Tottenham Hotspur Stadium are close to the previous locations.
Just 4.2 miles separates these great rivals, and there's unlikely to be any further moves at either club in the future.
Millwall & Charlton
The distance between New Den and The Valley Stadium is about 4.5 miles, or 7.2 kilometers.
South London teams Millwall and Charlton Athletic also make it onto this list. Millwall's New Den and Charlton's The Valley are 4.5 miles apart.
While there is that close proximity, many Millwall fans would say that Charlton are not their biggest rivals. That honour would go to other London clubs such as West Ham United.
Bristol City & Bristol Rovers
The distance between Memorial Stadium and Ashton Gate Stadium is about 5.0 miles, or 8.0 kilometers.
Bristol is a relatively small city, so maybe it's no surprise that the two main football clubs are close neighbours. Bristol City and Bristol Rovers' stadiums are 4.8 miles apart.
The two teams play in the lower leagues, but the Bristol derby was first played back in 1922.
Manchester United & Manchester City
The distance between Old Trafford and Etihad is about 5.0 miles, or 8.0 kilometers.
Manchester City moved from their former Maine Road ground in 2003, and they can now be found on the outskirts of the city, to the south. While they are further away, City and United still make this list as their stadiums are just 5.0 miles apart.
Manchester United are unlikely to move from their Old Trafford home. It's an iconic venue in the Trafford area of Manchester and has been constantly renovated to cope with the demands of modern, top flight football.
Manchester City are also planning to update their Etihad stadium in the near future. So, unless a new ground is built which is closer than 5.2 miles from its nearest counterpart, Manchester City and Manchester United will continue to cling on at the bottom of this list.
Final Thoughts
It's interesting to see just how close these stadiums are to each other. In cases where the two teams play each other on a regular basis, that really does enhance the rivalry on match days.
Many fans will choose to walk from their own grounds to their opponents' stadiums just to enhance the experience of a local derby. In some cases, that's quite a long walk, but there's always the option to stop in a pub and soak up some more of that pre-match atmosphere.
These is a possibility that there will be some changes to this list in the future. As we already know, Liverpool and Everton will be around three miles apart when Everton's new stadium at Bramley Dock is ready to be used.
More clubs will change locations as football evolves, and they could come closer to opponents. New stadiums tend to be built on out of town land, but this movement could make this a fluid list moving forward.