While Italy have consistently produced world class footballers across its history, relatively few have played in the English Premier League. In this round up, we'll take a look at the best players to have featured in England's top flight since its inception in 1992.
Has any Italian player won the Premier League?
As of 2023, only one Italian player has a Premier League winner's medal. Mario Balotelli won the title with his Manchester City team when they lifted the trophy at the end of the 2011/12 season. Balotelli's assist set up the vital winning goal for Sergio Aguero in the final game against QPR.
10 + 1 Best Italian Players in the Premier League History
Gianfranco Zola
While this list is in no particular order, there are many who feel that Gianfranco Zola is the best Italian player to have ever featured in the English Premier League. An attacking midfielder, he was hugely talented, and a spell at Napoli in the number ten shirt drew inevitable comparisons to the great Diego Maradona.
Zola arrived at Chelsea from Parma in 1996 and quickly adapted to the faster pace of the English game. He possessed a slight frame but was skillful enough to evade the majority of tough challenges that came his way. Zola stayed at Stamford Bridge until 2003, scoring 80 goals in 312 games and winning six major trophies along the way.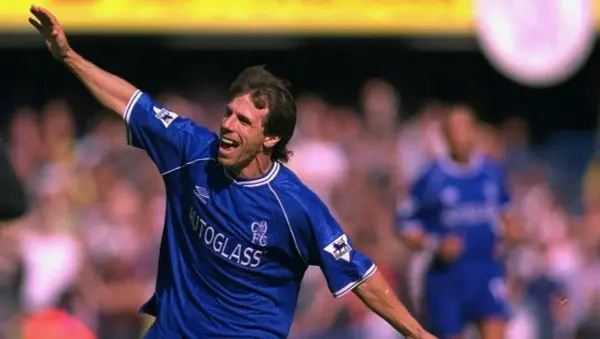 Paulo Di Canio
Paulo Di Canio may have lacked Gianfranco Zola's calm temperament, but he could match his compatriot for raw talent. After impressing for Celtic in Scotland's top flight, Sheffield Wednesday invested in the player, bringing him to Hillsborough in 1997.
Di Canio's quality shone through but a ban following an infamous push on referee Paul Alcock brought his Wednesday career to a premature end. West Ham United took a gamble on an unpredictable player and it paid off.
Paulo Di Canio became a hero during his time at Upton Park, earning a reputation for scoring spectacular goals. Including a brief spell with Charlton Athletic, Di Canio made 190 Premier League appearances, scoring 66 goals and winning the Intertoto Cup with West Ham in 1999.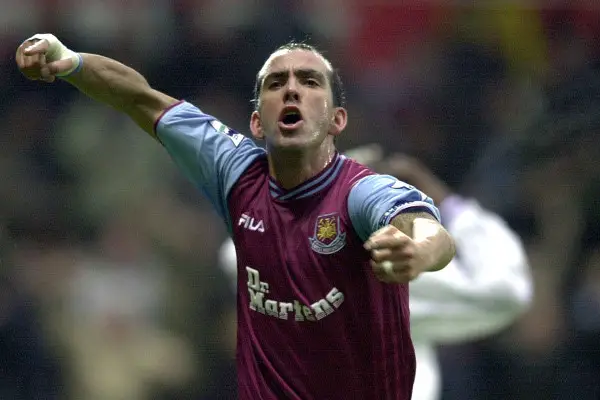 Benito Carbone
Benito Carbone played with Paulo Di Canio at Sheffield Wednesday after joining the club from Inter Milan in 1996. He was another highly skilled attacking player who could produce goals and assists out of nothing.
Carbone became another fans' favourite at Wednesday, but he was on the move to Aston Villa in 1999. In total, he played for five English clubs as he also featured for Bradford City, Derby County and Middlesbrough. English fans were amazed that he was never capped by the Italian senior side, but that simply underlines the depth of quality in the country.
Jorginho
At the time of writing, Jorginho is still playing in the Premier League, but he's already done enough to merit a place on this list. While born in Brazil, the player is of Italian descent, and he now has Italian citizenship.
Jorginho initially joined Chelsea from Napoli in 2018, making 218 appearances for the club in five seasons. He was a dependable midfielder and reliable from the penalty spot. With Chelsea struggling, many were surprised to see them sell Jorginho to London rivals Arsenal in 2023.
Arsenal fans have yet to see the best of this special player, but he will surely return to form before too long.
Roberto Di Matteo
Chelsea fans will forever be grateful to Roberto Di Matteo for his contributions to their club. The midfielder arrived at Stamford Bridge in 1996 and, as a player, he helped the club to win six major trophies.
Di Matteo's most memorable contribution came in the 1997 FA Cup final when he opened the scoring against Middlesbrough after just 43 seconds.
Later, Roberto Di Matteo returned to Chelsea as manager, and he led the team to a remarkable Champions League win in 2012.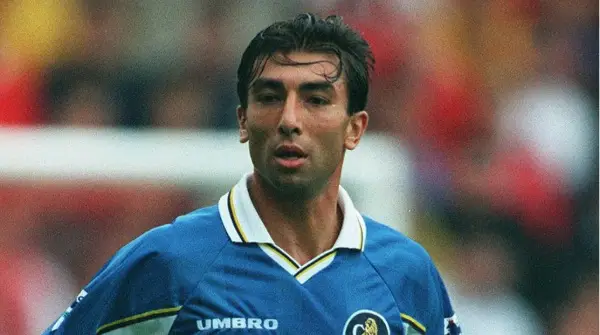 Alessandro Pistone
Many of the names on this list are attacking midfielders who showed typical Italian flair during their time in the Premier League. In contrast, Alessandro Pistone was a tough tackling full back, who became a reliable defender for Newcastle United and Everton.
Pistone first played in England with Newcastle after joining from Inter Milan in 1997. He was later sold to Everton and would spend seven years at Goodison Park. All of this makes him one of the longest-serving players in the Premier League, and that longevity is a testament to his quality.
Mario Balotelli
As we saw earlier, Mario Balotelli is the first, and, so far, only Italian player to have won a Premier League title. He earned that honour with Manchester City, but the striker would also feature in the English top flight with Liverpool between 2014 and 2016.
Unfortunately, Balotelli will largely be remembered for ill-discipline both on and off the pitch. He could never seem to settle at one club, and that's a shame, but he was one of Italy's most naturally talented players.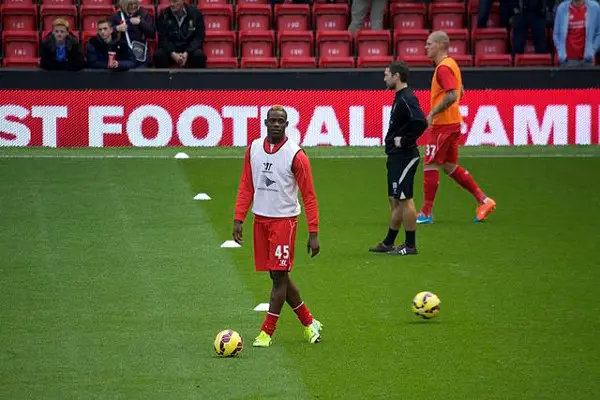 Francesco Baiano
A striker who spent two years with Derby County, Francesco Baiano had an impact at the East Midlands club, but Rams fans may not have seen the best of him. Baiano arrived at Derby from Fiorentina in 1997 and scored 16 goals in 64 games with the English club.
His record in Italy suggests he was one of the better Italian players to feature in the EPL, but he had the talent to deliver more.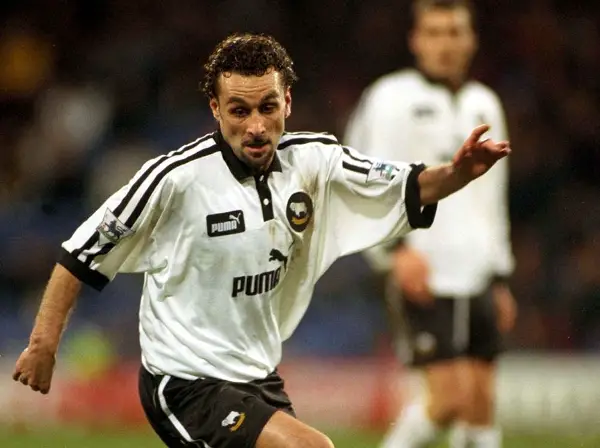 Carlo Cudicini
Carlo Cudicini is another Italian player who made his name at Chelsea football club. A goalkeeper, he is the son of Fabio Cudicini, who played between the posts for AC Milan.
Cudicini joined Chelsea from Castel di Sangro in 1999 and went on to play for ten years at Stamford Bridge. He was a calm presence in goal, and was first choice for the club during those early seasons. Carlo Cudicini later joined Spurs before finishing his playing career in the United States with LA Galaxy.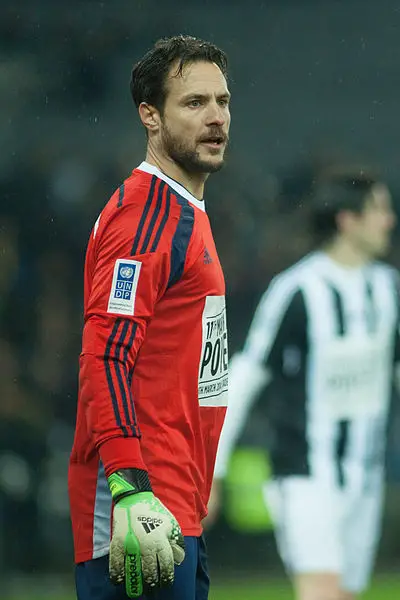 Fabrizio Ravanelli
A trademark celebration endeared Fabrizio Ravenelli to English football fans when he arrived at Middlesbrough from Juventus in 1996. It was a big coup for the North East club as the striker had a prolific record at Juve, and was establishing himself in the Italian national side then.
Ravanelli enjoyed a productive season at Middlesbrough, scoring 31 goals, but the club were relegated, and the player moved on to Marseille. Fabrizio Ravanelli later returned to the Premier League with Derby County but was no longer at his best.
+1 Gianluca Vialli
Chelsea fans would be disappointed not to see Gianluca Vialli outside of the top ten, and he certainly came close to inclusion. He was another to have played for and managed the West London club, and Vialli had a positive impact in both roles.
Vialli scored 40 goals for Chelsea and, as a player, won the FA Cup, League Cup and UEFA Cup Winners Cup. He also guided the club to five major trophies as their manager.
Conclusion
This a seriously talented list of players, and Premier League fans have been lucky to have watched them play in the English top flight. The list includes star names who have won major honours with European clubs.
The big surprise is that only one Italian player has a Premier League winner's medal. Surely that situation will change in the near future.