A single hat trick in any Premier League game is a remarkable feat, but there have been occasions where an EPL match has produced two separate trebles.
By the start of the 2022/23 English season, this had happened on four separate occasions, and here are the games in question.
2 Hat-tricks in one Premier League Game
Arsenal 6-1 Southampton, 2003
Arsenal were the first team to provide an instance of two players scoring a hat trick in the same game. Against Southampton on May 7th 2003, the Gunners overcame the Saints by six goals to one, and those strikes were evenly split between Robert Pires and Jermaine Pennant.
In both cases, these were the only Premier League hat tricks to be recorded by the two players in question. Pires was a regular with Arsenal and scored 87 goals in six years at the club. Pennant struggled to nail down a regular place in the team, and these were the only three goals he scored for the first team in 26 appearances.
An interesting fact is that Arsenal and Southampton met just ten days later at the 2003 FA Cup Final. Because of that 6-1 victory, the Gunners were expected to be big winners once again, but it didn't quite work out that way. Arsenal did win, but the 1-0 scoreline was less emphatic, even if Robert Pires managed to get on the scoresheet once again.
Wigan Athletic 5-3 Blackburn Rovers, 2007
This game from 2007 is the only instance, to date, of two players from opposing teams scoring hat tricks in the same Premier League game. Wigan Athletic hosted Blackburn Rovers in December of that year, and three of their five goals came from striker Marcus Bent.
Blackburn went down by a 3-5 scoreline and all three of Rovers' goals were scored by Roque Santa Cruz. Paraguayan striker Santa Cruz has been described as as a one-season wonder during his time in the Premier League. In that 2007/08 season, he scored 23 goals in 43 games for Blackburn.
The rest of his time at Ewood Park was less productive and Roque Santa Cruz also struggled during a spell at Manchester City. Marcus Bent is an interesting player and he was only on loan at Wigan when he scored this hat trick. He was very much a 'journeyman' striker and played for no fewer than 14 English clubs in his career.
During that loan spell with Wigan, Bent scored seven goals in 31 league games for his temporary club.

Southampton 0-9 Leicester City, 2019
Leicester City will forever be remembered for that astonishing Premier League title win in 2015/16. For a few seasons after that success, they remained a potent attacking force, and Southampton were on the wrong end of a devastating defeat in October 2019.
The Foxes won the game by nine goals to nil, with two players returning hat tricks. Ayoze Perez and Jamie Vardy recorded their second trebles in the Premier League in this comfortable away victory.
Vardy is known as a regular goal scorer for Leicester, and he is closing in on 200 career goals for the club. In that 2019/20 season, the former England striker scored 23 goals in 35 league matches.
Ayoze Perez played as an attacking midfielder, and those three goals were part of 12 overall league goals for the club. He later struggled at the King Power Stadium, especially in the season that Leicester City were relegated, and he's since moved on to Real Betis.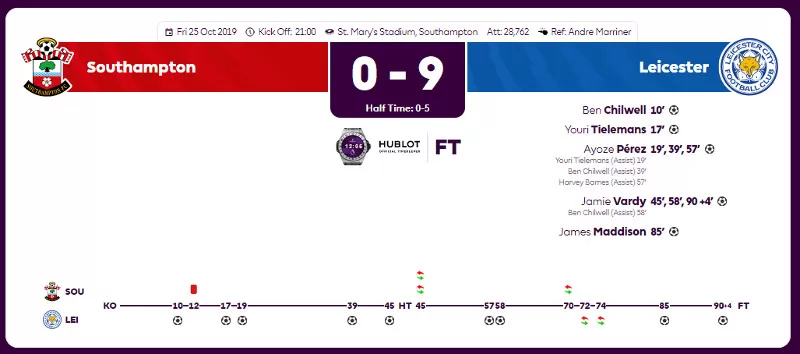 Man City 6-3 Man Utd, 2022
The Manchester Derby at the Etihad Stadium in 2022/23 was one to forget for the red half of the city. United went down by a humiliating 3-6 scoreline, with all of City's goals being split between two separate players. The game was played on October 2nd, and it was a low point in the season for Erik Ten Hag and his Manchester United side.
Eventual champions City were struggling to keep pace with the leaders Arsenal at this stage, but the game was an important one in the context of the overall season.
It's no surprise to see Erling Haaland contribute one of those trebles. The Norwegian international scored no fewer than 52 goals in 53 games during his debut season at The Etihad, and he landed six hat tricks across the campaign.
Phil Foden has also been a regular contributor to Manchester City as an attacking force, but this was his most productive game. In that 2022/23 EPL season, Foden scored 11 goals in 32 league matches.
Four of Haaland's six hat tricks came in the Premier League, but this was the only occasion when another player also scored three times.

Final Thoughts
Is it surprising to learn that there have been only four occasions where there have been two hat tricks in the history of the Premier League? The division has been in place for over thirty years now, so should we have expected more, or is this just about right?
These are interesting stats, especially when we consider some of the players that were involved. In the cases of Jamie Vardy and Erling Haaland, we have two of the most prolific strikers in the history of the EPL, but the other six players have not been so productive across their careers.
Phil Foden has time to add to his list of Premier League hat tricks. He is a midfielder, but in a team as dominant as Manchester City, it would be no surprise to see him record more trebles as his career develops.
In the cases of Marcus Bent, Ayoze Perez, Jermaine Pennant, Robert Pires and Roque Santa Cruz, these hat tricks were very much a high point of their time in the Premier League.
The only question that remains is whether any set of players will add their names to this list in years to come. Will we even see a Premier League match with three hat tricks? For now, these are the four instances of two hat tricks in an EPL game.