The English Premier League has welcomed a number of top Danish players into the division since it was founded in 1992. That was also the year that the Danes won the European Championship, and some of that squad were subsequently snapped up by EPL teams.
So, who are the best Danish footballers in Premier League history? Here is a list.
Which Danish Players won the Premier League?
Three Danish footballers have won the Premier League title. They are Peter Schmeichel and Anders Lindegaard who both played in goal for Manchester United, plus Kasper Schmeichel, son of Peter, who was the goalkeeper for Leicester City when they won the League in 2015/16.
Best Danish Goalkeepers in the Premier League
Thomas Sorensen
He may not have had the medals to show for it, but Thomas Sorensen was one of the best goalkeepers to ever come out of Denmark. The stopper is the longest serving Premier League player on this list, arriving at Sunderland in 1998 before eventually leaving for Melbourne City in 2015.
That first season of 1998/99 was spent in the second tier of English football, but Sorensen's Sunderland side were promoted to the Premier League at the end of that campaign. The next 15 years were spent in the top flight with the Black Cats, Aston Villa and Stoke City. Over that time, Thomas Sorensen proved to be one of the most consistent keepers in the entire division.
He was also the successor to Peter Schmeichel in the Denmark goal and would win an impressive 101 caps for his country.
Peter Schmeichel
Peter Schmeichel was the regular goalkeeper for Denmark when they won the European Championships in 1992. His assured displays between the posts had persuaded Manchester United to sign him from Brondby a year earlier, and he became a reliable figure as the Red Devils dominated the early years of the EPL.
Schmeichel spent eight years at Old Trafford before moving on to Sporting Lisbon, and he won a host of trophies, including five Premier League medals, three FA Cups, and a memorable win in the Champions League final of 1999. He was also UEFA's goalkeeper of the year in 1992, 1993 and 1998.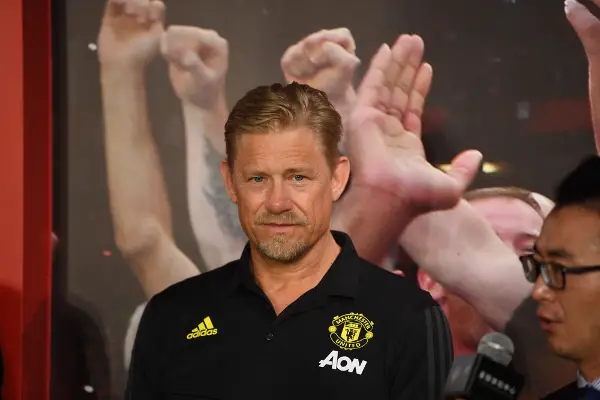 Kasper Schmeichel
Son of Peter, Kasper Schmeichel was a late developer as a top Premier League goalkeeper. After making his debut with Manchester City in the 2007/08 season, Schmeichel spent the next few seasons in England's lower divisions, and he also experienced a loan spell with Falkirk in Scotland.
The Danish international finally established himself with Leicester City, initially starting in the Championship before the Foxes were promoted back to the Premier League in 2014.
One season later, Kasper Schmeichel was an ever present as Leicester City claimed that incredible Premier League win of 2015/16. As one of the favourites for relegation, the club produced one of the biggest upsets in football history as they won the EPL title.
Schmeichel moved to French side Nice in 2022, but he'll be remembered as one of the greatest Danish players of all time, and, as of 2023, he's one of only three Danes to win the Premier League.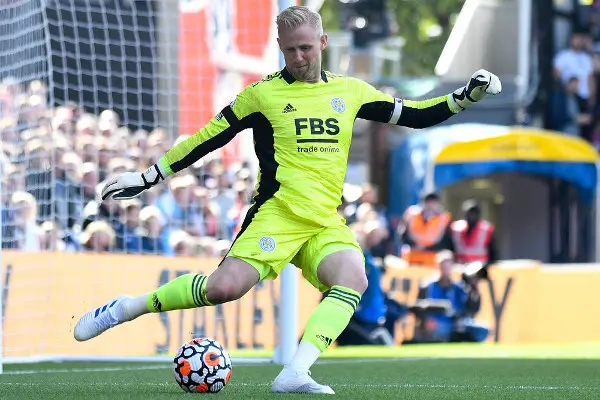 10 Greatest Danish Players in the EPL
Daniel Agger
Centre half Dan Agger spent eight years with Liverpool after joining from Brondby in 2006. He played at a time when there were bigger names around him in the squad, and he became something of an underrated defender.
Agger was highly dependable and a competitive player at the heart of Liverpool's defence, and he won the League Cup and the Community Shield during his spell at Anfield. His efforts probably deserved more rewards, but he'll be remembered by the Reds' faithful as a talented and committed player.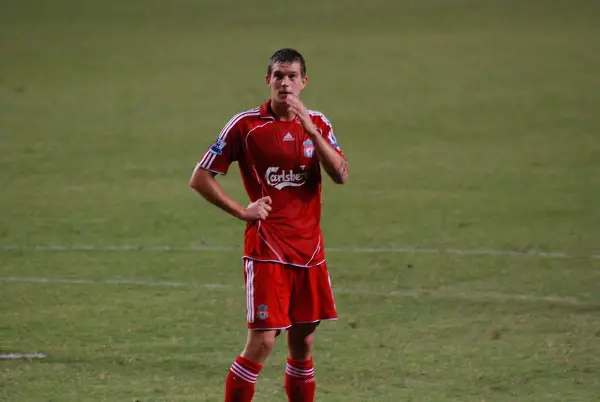 Jan Molby
Jan Molby was one of the most successful Danish players prior to the Premier League era. A stocky midfielder, he joined Liverpool from Ajax in 1984 and was part of a highly successful team at Anfield. Molby won eight major trophies with Liverpool, including three first division titles, but he couldn't help his team win the top flight in the Premier League era.
Molby spent three seasons in the Premier League, but was struggling with injuries at that time, and his appearances were limited. Despite those later problems, he deserves a place on this list as one of the greatest Danish players in top flight football.
Dennis Rommedahl
Danish international winger Dennis Rommedahl spent three seasons in the Premier League with Charlton Athletic between 2004 and 2007. Charlton were not a fashionable club and would struggle to stay in the division during their spell in the EPL.
Rommedahl was one of the standout players in a modest squad. He was a skillful right winger, capable of providing assists and scoring his share of useful goals.
Charlton Athletic had, back in the 1980s, stunned the soccer world when they signed the great Danish international Allan Simonsen from Barcelona. Their history of signing Danish players was extended by Dennis Rommedahl, and both men left unforgettable memories at The Valley.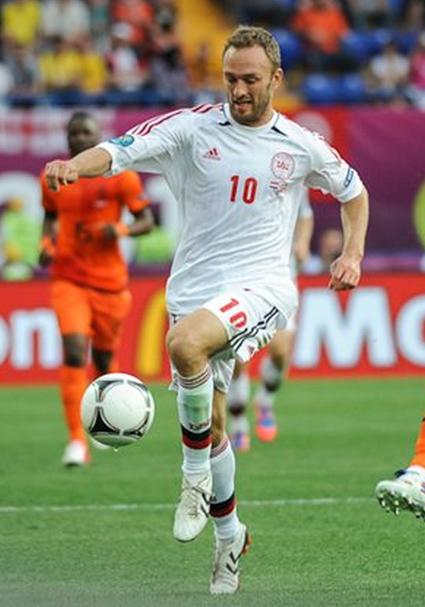 Nicklas Bendtner
Nicklas Bendtner made his name with Arsenal, and he could be a divisive figure at times. As a centre forward, he wasn't the most prolific goal scorer, but he would often deliver some important contributions.
Bendtner was a competitor, and he earned the respect of the Gunners faithful for that reason. He scored 45 goals in 171 games for Arsenal, and he helped the team win the FA Cup in 2014.
Christian Eriksen
Manchester United are Christian Eriksen's third English Premier League club. The attacking midfielder joined the Red Devils from Brentford in 2022 and has become a fringe member of the team at Old Trafford.
Eriksen had previously made his name in England with Tottenham Hotspur, who he joined from Ajax in 2013. The Dane became an important player in the side, scoring and assisting crucial goals in seven years with the club. Eriksen left for Inter Milan in 2020, but an unfortunate incident at the European Championships meant that he could no longer play in Italy.
In June 2001, he suffered a cardiac arrest on the field of play. He was thankfully resuscitated and later fitted with a defibrillator. Because such items are banned in Italian football, Eriksen returned to the Premier League with Brentford before moving on to Manchester United. He's still waiting for his first winner's medal in England, but Christian Eriksen is widely regarded as one of the most talented Danish footballers of all time.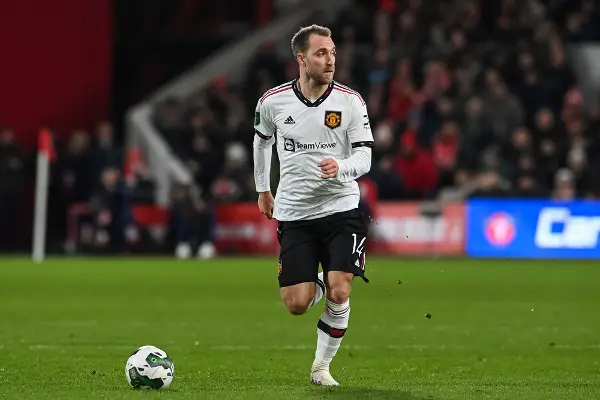 Jesper Gronkjaer
Signed from Ajax in 2000, attacking midfielder Jesper Gronkjaer would become one of Chelsea's most important players for the next four years. He was part of the team that saw a resurgence that eventually led to Premier League titles under Jose Mourinho.
Gronkjaer didn't win the Premier League, but he was a skillful player who helped Chelsea challenge for major honours. The Danish international also had a spell with Birmingham City before finishing his playing career back in Denmark with FC Copenhagen.
Thomas Gravesen
Defensive midfielder Thomas Gravesen became a fans' favourite at Everton thanks to his ultra-competitive nature. He was a combative player in the middle of the park, and that attitude endeared him to the Toffees fans.
When he arrived at Goodison Park from SV Hamburg in 2000, Gravesen was already an established Danish international, and he would go on to win 66 caps for his country. He was an important figure for Everton and helped to turn them into a unit that was always hard to beat.
Gravesen left for Real Madrid in 2005 before winning his only major honours in a brief stay with Celtic.
Allan Nielsen
Another player with a competitive and committed attitude was Allan Nielsen, who spent four years at Tottenham Hotspur between 1996 and 2000. He arrived after being named as the Danish player of the year in 1996, and would become a regular player in the Spurs midfield.
The highlight of his playing days at Tottenham came in 1999 when Nielsen scored the only goal in the League Cup final of that year. He also won the Alan Hardaker Award as the Player of the Match in that final.
Spurs fans will remember him fondly for that contribution, and he was one of the players who returned to the club for a celebration when they played their final game at the old White Hart Lane ground.
Allan Nielsen also played for Wolverhampton Wanderers and Watford in England, but he returned to Denmark to finish his playing career with Herfolge BK.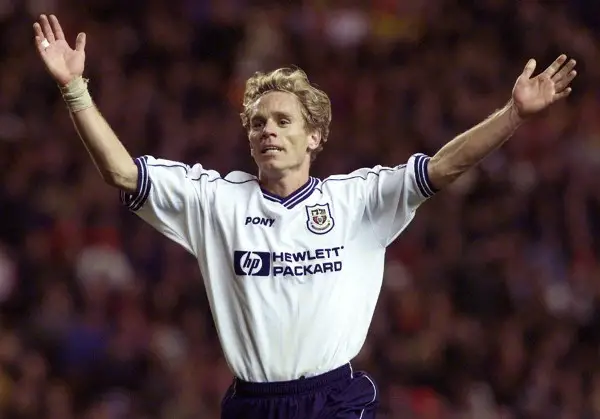 Martin Laursen
Following a career that saw him win a number of honours in Italy, Danish international Martin Laursen ended his playing days with Aston Villa in the English Premier League. He was a dependable centre back who earned the respect of Villa supporters during his time at the club between 2004 and 2009.
After struggling with injuries during the early part of his English career, Laursen became established in the team from 2006 onwards and was made club captain. In 2008, he was voted as the player of the season by Aston Villa supporters, so he was clearly held in very high regard.
Jesper Olsen
Jesper Olsen didn't actually play in the Premier League era, but he was a popular figure among Manchester United supporters during a four year spell in the old First Division. He began his career with Danish side Naestved but made his name with Ajax, where he played alongside the great Johan Cruyff.
Manchester United paid Ajax £350,000 to sign Jepser Olsen in 1980, and he added skill on the wing to a workmanlike unit. He was part of the United team that beat Everton in the 1985 FA Cup final, but he left the club before they began to dominate English football.
More Notable Danish Players
Other Danish players impressed in the Premier League, but their appearances in England's top flight were all too brief. Included in that list is Brian Laudrup, who joined Chelsea from Glasgow Rangers in 1998.
Laudrup was already established as one of the best midfielders in European football, but he couldn't settle in London and left to join FC Copenhagen after just 11 games.
One of the heroes of the 1992 European Championship win also enjoyed a spell in the Premier League. John Jensen scored a rare goal to help his country lift the trophy, and that prompted Arsenal to sign the midfielder after the tournament. Ironically, Jensen only scored one goal in 133 appearances for Arsenal, but he'll always be remembered as a Dane who made his impact on the EPL.
Another player who didn't quite save his best form for the Premier League was Jon Dahl Tomasson. As a striker, this Dane had been a regular scorer for Koge and Heerenveen, but he only found the net four times in 35 games for Newcastle United.
Peter Lovenkrands was another Danish international to play for Newcastle United, but he was a more productive player over four years at St James's Park. He was part of the Newcastle side that won the English Championship title in 2010, earning promotion back into the Premier League.
Conclusion
It's interesting to note that only three Danish players had won a Premier League winner's medal up to the start of the 2022/23 season. It's even more notable that all of those players are goalkeepers, but that may just be a coincidence.
What we do know for certain is that Danish players have had an influence in top flight English football since the 1980s, thanks mainly to Jesper Olsen, Jan Molby and Allan Simonsen. Their legacy was picked up by the players on this list, together with many other Danes that featured in the EPL.
Who was the best Danish player in the Premier League? That's a difficult question to answer. There are many outstanding players on here, and many could make that claim. For now, another question is who will be the next Danish star to grace the top flight of English football?