Shirt numbers in football tend to follow a certain pattern. While the old numbering system of 1 to 11 has been abandoned, specific numbers will usually tell us what position a player appears in.
For example, most goalkeepers will still wear number one, lower numbers are favoured by defenders, while higher ones are worn by the attackers.
But this isn't always the case, and here is a list of some unusual shirt numbers worn by footballers over the years.
Strangest Squad Numbers in Football History
01 – Derek Riordan
This is one of the oddest choices in the history of the game. Scottish international striker Derek Riordan played for Hibernian from 2001 to 2006, wearing the number ten shirt. When he returned to the club from Celtic for a second spell in 2008, the number ten was already taken.
Undeterred, Riordan merely asked for those numbers to be reversed. The club agreed, so the striker featured in the unlikely 01 jersey until number 10 could be freed up again.
1 – Edgar Davids
Dutch international Edgar Davids played for a number of top clubs across Europe, but he finished his career with lowly Barnet. At the beginning of the 2013/14 English season, he announced that he would be wearing the number one jersey throughout the campaign.
Traditionally reserved for goalkeepers, Davids said that he wanted to set a new trend for midfielders. Unfortunately, after a series of red cards, we only saw the Dutchman perform ten times in that number 1 shirt.
1+8 – Ivan Zamorano
This has to be the weirdest shirt number ever, and it's doubtful if this would be allowed today. Chilean international striker Ivan Zamorano initially took the number 9 shirt when he arrived at Inter Milan from Real Madrid in 1996.
The club later gave the 9 jersey to Ronaldo instead. Possibly by way of a protest, Zamorano opted for 1 + 8 = 9.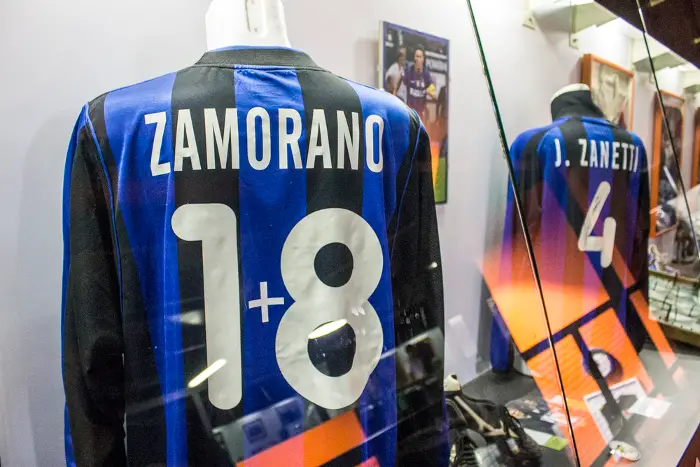 2 – Wilfried Bony
The number two jersey is normally reserved for a right sided defender, so why did centre forward Wilfried Bony opt to wear this shirt? Even more strange was the fact that the number nine jersey was available when he rejoined Swansea from Manchester City.
Bony explained that he went for number two as this was his second spell at the Welsh club.
2 – Clint Dempsey
As with Wilfried Bony, Clint Dempsey was an attacking player, so it was something of a surprise when he opted for the number two shirt at Tottenham Hotspur.
USA international Dempsey had used other numbers in the past, but the number 2 was available when he joined Spurs, and this was the shirt that he wore during his days at Furman University.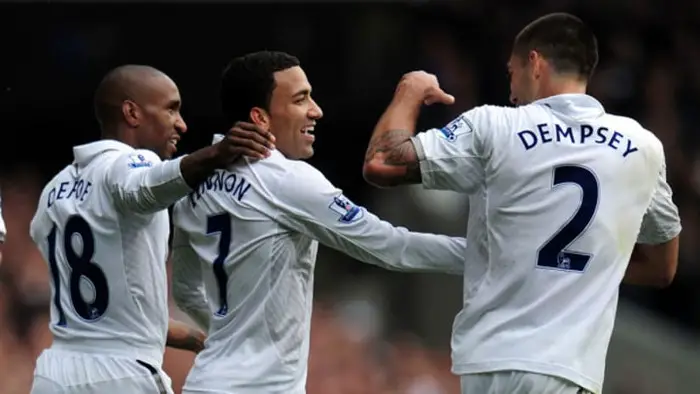 3 – Asamoah Gyan
A striker by trade, Ghanaian international Asamoah Gyan has always worn the number 3 shirt. He explained that this was due to his religious beliefs, after the Holy Trinity – the Father, the Son and the Holy Spirit.
5 – Samuel Eto'o
One of the most prolific strikers in world football, Cameroon international Samuel Eto'o suprised the football world when he took the number 5 shirt at Everton. He joined the club in 2013 and took a number which would normally be handed to the club's first choice centre back.
There was no specific reason given for this strange choice. Eto'o merely said at the time that his number changed as he got older. Everton fans saw little of their new number 5, as the player featured in just 20 games before leaving for Sampdoria.
5 – Milan Baros
Liverpool striker Milan Baros wore the number 5 shirt when his team won the Champions League in 2005. There is no real reason given for this, other than the fact that Baros may have just felt comfortable wearing it.
9 – Khalid Boulahrouz
When he joined Chelsea in 2006, defender Khalid Boulahrouz was given the number nine shirt which is usually allocated to the club's main striker. There's no official reason as to why this happened, but there is a suggestion that the player was pranked by the kit man, who may have wanted Chelsea fans to think they'd signed a new centre forward.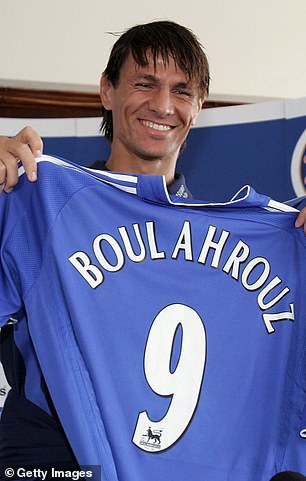 10 – William Gallas
After crossing London from Chelsea to Arsenal. William Gallas asked to wear the number 13 shirt but it wasn't available. As a centre back, Gallas would have been more suited to a low number, but he opted for number 10 instead, replacing the attacking player Dennis Bergkamp.
10 – Cristiano Lupatelli
There may not seem anything unusual about Cristiano Lupatelli wearing the number 10 shirt, until you remember that he was a goalkeeper. In that position, players will either take the number 1 jersey, or a number that exceeds the the regular outfield system of 2 – 11.
What was the reason for Lupatelli to take such an odd number when he moved to Chievo in 2001? It's said that he did it to win a bet with some friends.
37 – Martin Skrtel
One of the toughest centre backs in the Premier League during his time with Liverpool, Martin Skrtel made a strange choice for his shirt number. 37 wasn't identified with defenders, or anyone else on the pitch for that matter, but the Slovakian international became synonymous with this during his eight years at Anfield.
The reasons behind the choice were relatively simple. Skrtel's favourite number was 3, while his girlfriend's favourite was number 7, so he simply placed the two alongside each other.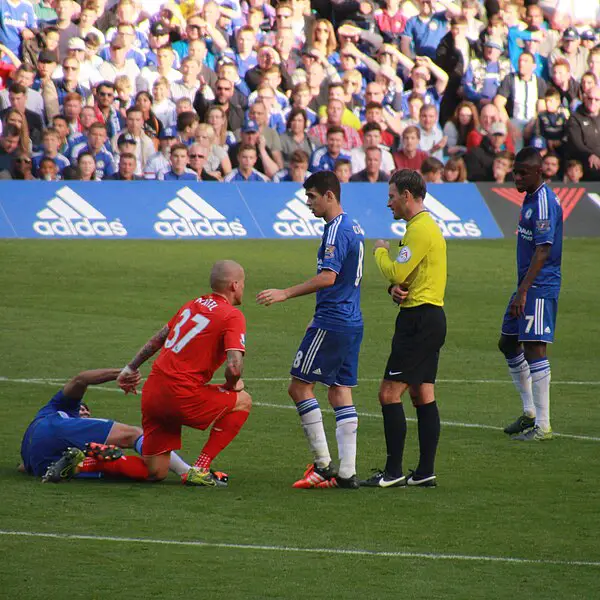 39 – Scott McTominay
Scott McTominay was allocated the number 39 shirt when he first broke into the Manchester United side under Jose Mourinho. It has served him well, and it's unlikely that anyone else will want the number, so McTominay has stuck with it.
41 – Declan Rice
Arsenal's new signing Declan Rice has stayed with the number 41 shirt for similar reasons to other players on this list. He was first given this jersey when he featured for West Ham's academy, and he's kept it as a reflection of his playing journey.
Rice has since made a multi-million pound move to Arsenal, but he has kept his favourite number 41 jersey at his new club.
45 – Mario Balotelli
A real maverick player, Italy's Mario Balotelli is another man to have used multiplication in the choice of a football shirt. When he was with the youth team at Inter Milan, the striker elected to play in the number 45 shirt as 4 and 5 added up to 9.
Balotelli hit a strong run of form with this number, so he simply chose to stay with the number 45, as he must have felt it to be a lucky charm.
47 – Phil Foden
47 is a high number and it's clearly an unusual one. Phil Foden chose this when he first played for Manchester City's academy. It was done as a tribute to his boyhood club, Reddish Vulcans, which use the number 47 in their postcode.
52 – Nicklas Bendtner (and Number 3)
Many footballers are superstitious and that is behind their choice of shirt numbers at times. In the case of Nicklas Bendtner, he wanted the number 7 at Arsenal. This was a favourite number, but it was already taken,
Instead, the striker chose 52 as this represented 5 + 2 = 7. Later, when Bendtner moved to Germany, it's said that he picked the number 3 shirt as his mother told him to.
66 – Trent Alexander-Arnold
As a right-sided defender, Liverpool's Trent Alexander-Arnold would be more suited to a low number. However, he was assigned the number 66 shirt in the Reds' academy, and he's stuck with it, as he feels this is a nod to his roots.
69 – Bixente Lizarazu
When French international Bixente Lizarazu returned to Bayern Munich from Marseille in 2005, he opted to wear the number 69 jersey for very innocent reasons. Not only was the defender born in 1969, he stood an 1.69 metres tall and weighed 1.69 kgs at the time.
69 was, therefore, a significant number in his life, and Lizarazu won the double of the Bundesliga and the German domestic cup at the end of that 2005/06 season.
80 – Ronaldinho
Brazilian international Ronaldinho only wore this shirt number during his time at AC Milan. When he arrived at the club from Paris Saint-Germain in 2003, his favoured number 10 jersey was already allocated to Clarence Seedorf.
Ronaldinho didn't seem to fancy any other regular outfield number, so he chose to take 80, after the year of his birth.
88 – Gary Hooper
The much travelled striker Gary Hooper has played for no fewer than 13 senior sides across his career. Wherever he's played, he's looked to wear the number 88 shirt, for no other reason than the fact that he was born in 1988.
It's also interesting to note that many strikers prefer to avoid the number 9 shirt. Maybe they feel that it puts too much pressure on them. Some will opt to take number 10 instead, but Gary Hooper was a little different.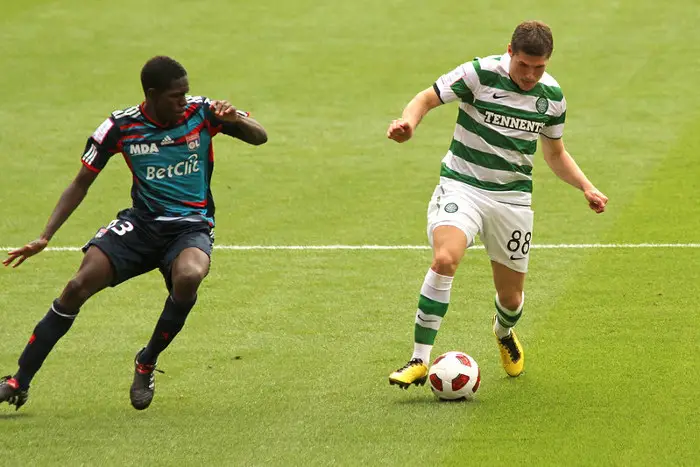 99 – Gianluigi Donnarumma
When you're a 16 year old goalkeeper playing for one of the top sides in Europe, why not remind all of the fans and players or your youth? When Gianluigi Donnarumma debuted for AC Milan in 2015, he chose the number 99 shirt to represent the year of his birth – 1999.
Even when he became the first choice keeper at Milan, Donnarumma stuck with number 99, and he's kept it with him at his new club, Paris Saint-Germain.
111 – Luizão
Brazilian international Luizao wore a bizarre number but it was only for one season. His club, Flamengo, were celebrating their 111th anniversary in 2006, so the player decided to celebrate with them by playing as the number 111.
121 – Tommy Oar
Australian international midfielder Tommy Oar wore one of the most bizarre shirt numbers of all time when he pulled on the number 121 jersey. He was allocated this number when he made his debut for the Socceroos and Oar isn't sure why.
One theory is based on him being the 121st player to have represented his country at senior level, but there are conflicting stories, and nobody is really sure of the truth.
Conclusion
In the modern game, players can choose which shirts they play in, and that's why we have some of these unusual situations. Attacking players can pick low numbers, while defenders are free to go high.
In the English Premier League and in other divisions around the world, players' numbers have to be between 1 and 99. We don't see too many high picks as a result, but there are still some exceptions.
Moving forward, we may also see some unusual shirt numbers added to this list. While there are those restrictions in place, there may never be another player wearing something in excess of 100, but there is plenty of scope for some more bizarre choices.